Wind Mitigation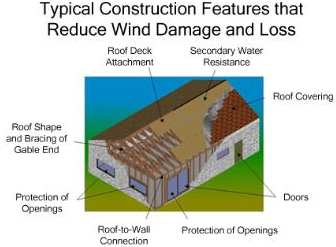 What is a Wind Mitigation?
Wind mitigation inspections are in place to evaluate a home's construction and assess its potential resistance to forces brought by hurricanes and other categories of windstorms. The inspection verifies type of roof, roof-to-wall connections (clips, straps, toe nail, single or double wraps, etc.), braced gable ends, secondary water barriers, reinforced wall construction and openings (shutters, impact resistant windows and doors; including garage) protection.
Florida law Statute 627.0629 requires insurance companies to offer homeowners unprecedented savings on their home insurance premiums. In order to qualify homeowners must receive a State Certified home Wind Mitigation Inspection. Wind mitigation discounts are justified because stronger, more wind-resistive houses incur lower windstorm losses. Lower windstorm losses represent reduced costs to insurance companies that are then passed on to the consumer.
This online tool provides homeowners and builders with a general indication of the types of wind insurance savings available from Florida insurance companies for building features that reduce damage during high wind events like hurricanes.